Great values when you visit us!
From time to time we hold special promotions on services and products we offer. This page is updated regularly with current special offers you can take advantage of when you visit us. We are always looking for new ways to serve our clients. This page allows you to see all the great new ways we strive to give you the best values for your beauty dollars. You can even sign our Guest Book if you would like us to notify you when specials are offered.
Special Offers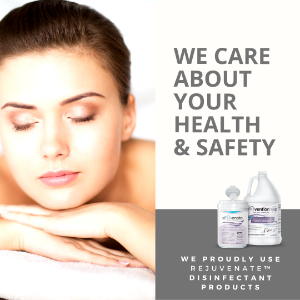 COVID-19 We have followed our state board guidelines and recommendations for thorough cleaning,sanitation,and disinfecting,however we have taken them a step further to incorporate more sanitary practices for when we open and close our business and between each client.We have added in more time to thoroughly clean and disinfect the entire treatment area or any other locations throughout the spa/salon/etc.before our next guest arrives.
Friendly reminder to reschedule your appointment if you're feeling under the weather with flu-like symptoms such as a fever or deep cough. We promise to take care of you once you're feeling better. We will also stay home if we are not feeling well.
Rejuvenate is EPA registered hospital grade disinfectant that kills germs .Our cleaning supplies are all approved by our state board effective killing viruses including COVID-19 as unnatural cleaning supplies